Keeping a Sketchbook Journal - in Spain
A week long course at the beautiful Cortijo Romero in the Alpujarras in Spain.
2nd - 9th June 2018
Most of us carry a camera on holiday, to significant events - and nowadays almost everywhere. Although we may get a lot of images, they don't usually recall our personal response to an experience. There is another way…
A sketch enables us to record only what is significant for us, leaving out everything else to make a unique record. It takes longer too, so we are obliged to pay more attention and be more fully in the experience.
A lot of people have had bad art experiences at school or in the family which has rocked the confidence they enjoyed at a young age.
This workshop is about play and experimenting in a small safe group. A playful experimentation is the best way to approach all art. We'll do this mainly using sketchbooks, pen and ink, and watercolours.
By the end of the week you will have tried some new techniques, found a way of working that suits you, and hopefully feel a lot more confident about keeping a sketchbook journal and art in general.
We'll start by focusing on drawing using objects in the studio as subject matter. We can experiment with mark making and some different materials. This will lead onto thinking about "what" to draw and looking at perspective. Further along, I wll bring in a model so that we can get some experience capturing the figure before we try doing so outside.
Having gained some confidence we will look at ways of adding colour, particularly watercolour. We'll explore this medium and see how by using limited colour, a drawing can spring to life.
By the end of the week you wil have a record of Cortijo, the local town and the things which have inspired you.
Click image to view clip of Cortijo Romero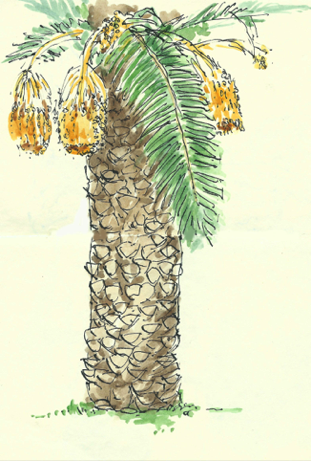 The Venue
Hidden within an ancient olive grove and cradled by magnificent mountains, Cortijo Romero is a truly peaceful and restorative retreat, with beautiful abundant gardens, a splendid pool, buildings in traditional style and a uniquely supportive atmosphere. Accommodation is in twin, double or single room, all with en-suite bathrooms.
It is situated in Las Alpujarras, the foothills of the Sierra Nevada Mountains deep in the south of Spain.
The price for each week includes full board plus optional yoga or tai chi, expressive dance, basic Spanish tuition and a full-day excursion to spectacular mountain villages. Optional extras are individual sessions of massage, Thai yoga and life coaching.
For booking and more info click here
"I really enjoyed the course - thank you so much. A lovely group and a super relaxed atmosphere." Susanne L
"Thank you for such a great course." Chris D
About Cortijo Romero:
"A very special experience in an idyllic, nurturing setting."
"As close to paradise as I can imagine."
Small Sketchbook Journal Group in Totnes
Early December 2017
(date to be fixed)
10.30am to 3pm
£30
A one day small group to get started with keeping a sketchbook journal or a spur to inspire you to keep it up.
Suitable for both beginners and those with some experience.
Using mainly pen and ink with a little watercolour to bring the scene to life.
Explore different techniques; some different materials and begin to find your own style and subject matter.
Please call me for more details: Roger 07935 879425