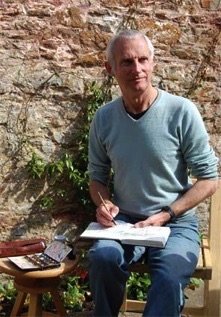 "I went to Chelsea School of art where I studied graphic design. I then went on to do a post graduate in Art Therapy which led to work within the NHS.
I continued with my own work especially pen and ink with watercolour which are such easy materials to travel with. Over the years I have build up quite a sketchbook record of my life and travels.
More recently I have been teaching and also making oil paintings. These paintings are generally done wholly or at least partially on the spot which seems to be my favourite way of working. A bit more challenging in the dead of winter!".